Be Unlimited Yoga Instructors!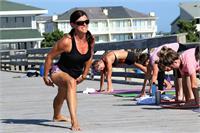 As a life long dancer, Battle started practicing yoga and found her joy in the Ashtanga tradition. Battle has been fortunate to practice with incredible teachers such as Larry Hobbs, Annie Pace, Tim Miller, and Richard Freeman. Now after completing 200 hour teacher training with world renowned teacher Sri Dharma Mittra, Battle is excited to share her passion with others. Battle's teaching is in the classic Dharma style which integrates strength, flexibility and spiritual awareness combined with basic Ashtanga principles and postures. Battle believes that every practice is unique and that the body and mind gain new knowledge even where the asanas are the same. Battle strives to disseminate Dharma's knowledge of how to achieve radiant health and spiritual development through the practice of yoga and the eight limbs of yoga as they enhance the life of the practitioner both on and off the mat.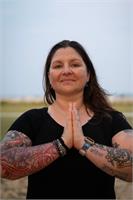 Caroline's love for yoga began over 12 years ago. She practiced on and off for years. In her personal practice she has found yoga to bring healing and self-acceptance on a level she's been unable to find in any other way. In 2015 she decided to pursue her 200 hour RYT, which allowed her to deepen her own practice and tapped into a deep calling to share this healing and acceptance with others. Caroline has been teaching for a little over a year now, and her journey continues to nourish her life on a physical and spiritual level. She can't wait to share these gifts with her students! Life is a celebration of joy and our bodies are the vehicles that take us on this journey. Caroline loves to create personal healing, freedom, and awareness through the practice of yoga. Encouraging breathing with the whole body, moving with the whole spirit, and embracing every moment so her students can shine their lights together to change the world.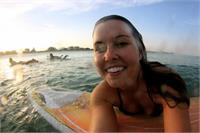 Blair started practicing yoga after losing her father in 2012 and was healed through her practices. After realizing how beneficial yoga is, she decided to pursue in teaching yoga to show others how powerful of a healing tool it can be. Blair received her training in the Outer Banks through the Wilmington Yoga Center and Village Yoga participating in a retreat style teacher training. Blair's primary teachers include , Kristin Cooper, Noelle Whittington, Katie Kennis, and Jessica Moody. Blair teaches Kunga yoga, which is an open style of mind/body yoga with focused training on service and she is also certified to teach yoga to special populations, 5 elements flow sequences, and pre/ post natal yoga. Yoga has encouraged her to become a compassionate leader and she hopes to make a difference in the world through her teachings.
---

Check out our Music in our Spotify Playlists!