Blair Bigham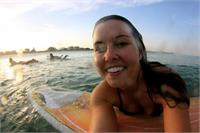 Blair started practicing yoga after losing her father in 2012 and was healed through her practices. After realizing how beneficial yoga is, she decided to pursue in teaching yoga to show others how powerful of a healing tool it can be. Blair received her training in the Outer Banks through the Wilmington Yoga Center and Village Yoga participating in a retreat style teacher training. Blair's primary teachers include , Kristin Cooper, Noelle Whittington, Katie Kennis, and Jessica Moody. Blair teaches Kunga yoga, which is an open style of mind/body yoga with focused training on service and she is also certified to teach yoga to special populations, 5 elements flow sequences, and pre/ post natal yoga. Yoga has encouraged her to become a compassionate leader and she hopes to make a difference in the world through her teachings.
Blair Bigham instructs the following:
Ease into your day by connecting with your breath. Find your rhythm and allow your body to slowly awaken.

This all levels class focuses on alignment and foundational postures of yoga. Enjoy creative sequences to strengthen & lengthen the body. While finding peace & calm of the mind.


(60' Min - Level 1/2 - Temp: 75/80°F - No Humidity Introduced)




Level 1/2 Lengthen, strengthen, speed up the heart rate and relax to find balance on and off the mat. Flow through the fun and creative sequences for a sweaty, whole body work out, from sun salutations and strong Warriors transitions, to longer holds in the cool down. Strong focus on combining movement with breath and basic alignment principles. Modifications offered!
(60' Min - Level 1/2 - Temp: 95°F - 35% Hu)




Treat yourself to a nurturing class supported by bolsters, blankets, blocks & your loving instructor. Lisa Fleming will guide you through 60 minutes of therapeutic, stress relieving relaxation. This class will be held in a cozy environment with aromatherapy & guided meditation. Come prepared to surrender into healing.