Battle Witherington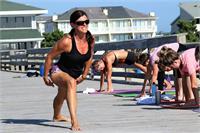 As a life long dancer, Battle started practicing yoga and found her joy in the Ashtanga tradition. Battle has been fortunate to practice with incredible teachers such as Larry Hobbs, Annie Pace, Tim Miller, and Richard Freeman. Now after completing 200 hour teacher training with world renowned teacher Sri Dharma Mittra, Battle is excited to share her passion with others. Battle's teaching is in the classic Dharma style which integrates strength, flexibility and spiritual awareness combined with basic Ashtanga principles and postures. Battle believes that every practice is unique and that the body and mind gain new knowledge even where the asanas are the same. Battle strives to disseminate Dharma's knowledge of how to achieve radiant health and spiritual development through the practice of yoga and the eight limbs of yoga as they enhance the life of the practitioner both on and off the mat.
Battle Witherington instructs the following:
Add a little inspiration to your day! A dynamic yoga flow comprised of strengthening and stretching poses to invigorate the body, breath work to calm the mind, and a touch of inspirational teachings to awaken your soul.

Modifications offered!


(60' Min - Level 1/2 - Temp: 75/80°F - No Humidity Introduced)




This Level 1/2 Ashtanga inspired set sequence integrates the core principles of traditional hot Bikram yoga with a Vinyasa power flow. Practiced in a heated room of up to 105 °F and 50% humidity, these 75 minutes of sweaty yoga will lead you to a lifetime of bliss, strength, focus and balance. Challenge not only the body but the mind by allowing the heat and music to transport you to a meditative state of awareness. With a devoted practice this will be increasingly accessible in your everyday life, becoming a permanent extension of your personality.




A step up from the BeU hot flow expand your practice by adding in some new postures. Utilizing the set sequence as a guide, more adventurous poses are offered as options for variety and challenge.




"One of the greatest kirtan groups today… Prema Hara makes some of the sweetest Sanskrit yoga music you'll ever hear. They create a kirtan experience that melts the heart and touches the spiritual Self. Their devotion is contagious and their sound is as Divine as the names of God they chant."




In this workshop, you will begin to build the foundation for your arm balances or sharpen and deepen your arm balance skills practicing some of the more challenging poses. You will have opportunities to connect one arm balance into another with strength and agility. You will practice incorporating and linking the postures within a flow class. Overcome your fear of flying in this fun filled 2 hour workshop!