BeU Hot Flow (Turbo options) 105/50%
This class is taught by: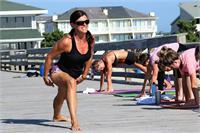 As a life long dancer, Battle started practicing yoga and found her joy in the Ashtanga tradition. Battle has been fortunate to practice with incredible teachers such as Larry Hobbs, Annie Pace, Tim Miller, and Richard Freeman. Now after completing 200 hour teacher training with world renowned teacher Sri Dharma Mittra, Battle is excited to share her passion with others. Battle's teaching is in the classic Dharma style which integrates strength, flexibility and spiritual awareness combined with basic Ashtanga principles and postures. Battle believes that every practice is unique and that the body and mind gain new knowledge even where the asanas are the same. Battle strives to disseminate Dharma's knowledge of how to achieve radiant health and spiritual development through the practice of yoga and the eight limbs of yoga as they enhance the life of the practitioner both on and off the mat.
A step up from the BeU hot flow expand your practice by adding in some new postures. Utilizing the set sequence as a guide, more adventurous poses are offered as options for variety and challenge.
Upcoming classes: