BEginnings (78°F)
This class is taught by: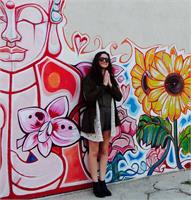 I began practicing yoga in 2012 to help recover from a back injury, but the healing experience brought so much more than physical growth. I realized that this ancient practice is a multifaceted exploration into the body, mind and soul. Life is a dynamic and continuous phenomenon where change is inevitable. Yoga allows us to develop a deeper sense of the present and the ability to accept these changes. Through my practice, this breakdown of force is nurtured from the moment I step on the mat to the moment I step off. As a UNCW psychology graduate student with a concentration in neuroscience, having the ability to share what I have learned through my scientific studies with my students has been a true blessing. I completed my 200-hour Instructor Development Program under the guidance of the beautiful and talented Deborah Leader and I am so grateful to be an even greater part of the BeUnlimited family.
This class introduces the fundamentals of yoga, teaching conscious breath and simple postures in a supportive environment. A series of slower paced movements will provide you with a strong foundation to spring forward into your practice.
(60' Min - Level 1 - Temp: 78°F No Hu added)
Upcoming classes: